Timberee At Monument Canyon** MH (Canyon)
Golden Retriever Stud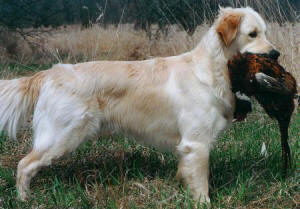 » Canyon's Pedigree and Genetic Information

Canyon is a very pleasing combination of both the American and English breed types, an appealing, well-proportioned and balanced dog. Canyon is a dog for breed exhibitors who wish to strengthen their line's working abilities without losing breed type, and for field competitors who wish to add more breed type to their lines without losing working ability.

Canyon's temperament is exemplary. He is stable, friendly, reliable and trustworthy. He embodies everything a Golden Retriever can and should be in terms of breed character. His behavior around other dogs and people is outstanding. He is particularly good with puppies and children, and he is a natural gentleman in any situation - truly an easy dog to live with.

Canyon is an intelligent dog who learns quickly, is extremely versatile, and is eager to please no matter what he is asked to do. He has been very forgiving of his owner's training mistakes and is always willing to do it one more time. He is very birdy and a stylish worker in the field. He has a good water entry both on his way out to retrieve and on the return. He has been completely owner trained and handled, which is particularly notable since he is his owner's first field dog.

Canyon has a lovely, unmistakably masculine head - broad skull with nicely set ears, a well-defined stop, and good breadth of muzzle with a wonderful expression and beautifully shaped dark eyes. Canyon has full dentition and a scissors bite. Canyon's pigmentation is solid black. He carries a correct Golden coat. His coat is straight with full feathering of moderate length. Burrs brush out easily and his coat does not hold excess water. Canyon's topline is absolutely level with a good croup and a well-set on, beautifully carried tail. He has a strong, muscled neck of good - not exaggerated - length, which allows him to pick up and carry heavy game with ease.

Canyon received a High In Trial at his first all-breed obedience competition. He obtained his CD with a Dog World award (average for the three legs was 197.5). Canyon was in the ribbons in 7 straight trials in his Novice career. He is trained through utility and will be shown in Open in 2003. He is a happy worker in the obedience ring - precise not programmed. In March 2000 Canyon placed in a sanctioned derby test which earned him a single star. If his field training had started earlier he might have had a derby career. He has his Master Hunter title and passed both his WC and WCX at his first try.

He is at stud to approved bitches.

» For more information contact Rose Ann Porucznik at rapgolddog@aol.com.